Wood Fence Installation in Bethel Park, Coraopolis, & Pittsburgh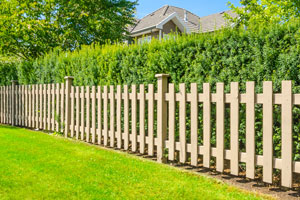 Protection & Elegance: Wood fencing allows for the natural beauty of wood with the desired protection you want for your yard.
Wood fences remain a popular choice among homeowners for its beauty, privacy, and longevity. Wood is also a versatile material that can be used for a variety of fence applications. The experts at Pro Fence & Railing install high-quality wood fences in pine or cedar, providing top-notch design and installation to ensure that your wood fence will serve its purpose for years to come.
To request your free on-site design consultation and no-cost quote, call us at 1-844-385-8831. You can also click below to fill out our simple contact form and one of our specialists will call you as soon as possible to set up your appointment.
What type of wood fence is right for you?
Privacy fence

Wood is often used for privacy fences because it provides safety without sacrificing style. A wood fence can also help keep your pets in the yard and unwanted pests out.

Picket fence

Picket fencing is the most popular type of wood fence. Picket fences can be used for a variety of applications and can be easily customized to create the look you want.

Post and rail fence

Wood is a practical and cost-effective solution for a post and rail fence. If you have a large area of land that you need to enclose, a wood post and rail fence is an affordable option that will provide the function you need.
No matter what type of fence you're looking for, we offer a wide range of styles and materials, including cedar fencing and pressure-treated pine fences.
Photo Gallery
Maintaining your wood fence
Rotting and warping are common issues with wood fences, but there are several methods for preserving your investment.
Metal posts can be used to protect fence posts from water and moisture damage and preserve the support and structure of your fence.
Fencing can be treated with a water-repellant solution to protect against warping and insect damage.
Staining can give your fence a custom look and help it to blend with the surroundings, as well as seal the wood to help prolong the life of your fence.
Let us help you choose the best fence to solve your needs
Whether you are looking to install a wood fence around the perimeter of your yard, garden, or anywhere else, you can trust Pro Fence & Railing to provide high-quality products and professional, hassle-free installation.
If you aren't sure if a wood fence is right for you, browse our other residential fence options or contact us to set up a consultation with one of our experts!
Call today to request your free estimate for wood fence installation! We are your expert fence company in Washington, Bethel Park, Pittsburgh, New Castle, Canonsburg, Mckeesport, Mars, Glenshaw, South Park, Wheeling, and surrounding towns and cities.