Durable Handrail Solutions in Pittsburgh, Coraopolis and Throughout Pennsylvania
We install outdoor railings for decks, stairs, porches & more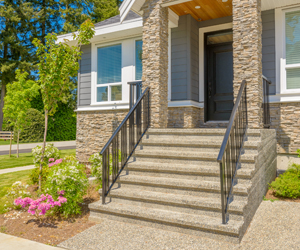 Safety first: A handrail should be installed no matter what size staircase you have to help prevent physical injuries.
Pro Fence & Railing installs secure, durable handrails that are suitable for all residential and commercial properties and are designed to provide years of worry-free use. We offer railings for decks, stairs, porches, ramps, balconies, and walkways in a variety of styles and materials.
Our specialists will help you choose a handrail to match your existing fence or create a customized look to fit your needs.
For a free consultation and quote, give us a call at 1-844-255-5991 today! We are your local expert for fence design and installation in Bethel Park, Pittsburgh, Washington and surrounding Pennsylvania.
Before and After
Before

After

We installed a Potenza Vinyl railing at our customer's home in West Mifflin, Pa. We replaced their old, mismatched exterior with new, cohesive, durable pieces. The Potenza Vinyl is one of our most popular options as it is easy to maintain and very durable! It will hold up to rain, snow, wind, and anything else Western Pennsylvania weather might throw its way!

Before

After

For this Pittsburgh customer, we installed a clay-colored Potenza Vinyl Railing. We gave them a new railing that was longer, thicker, and more updated than their old on. All of our Potenza Railings are warranty-backed and built to last - call for your free estimate today!

Before

After

Our customer in Bethel Park, PA needed to replace an unsafe railing. We went with a white vinyl picket railing. It looks great and is much safer than their previous railing.

Before

After

This homeowner in Pittsburgh was looking to replace their railing in the front of their home. Their railing had become unstable and posed a safety hazard. We replaced their railing with a black aluminum railing. The homeowners now feel safe and completely happy with their new railing!

Before

After

This client in Pittsburgh was looking to add appropriate safety measure to their long front steps. Our team stopped by to provide an estimate and outline the options, which the client loved! The new installation looks fantastic and gave them exactly what they wanted. A continuous handrail is a great and easy way to add some additional security to your steps!

Before

After

Checkout this handrail we installed for our customer in Pittsburgh, PA. A continuous handrail is an easy solution to add where you need to create a bit more safety for your steps.

Before

After

We installed this 3 foot white continuous handrail on our customer's staircase in Pittsburgh. This crisp, clean design brightens up this home!

Before

After

Our customer was looking to add a bit of safety to his stone staircase. We set him up with this classic, sturdy design that blends well with the outdoor aesthetic.

Before

After

This homeowner in Pittsburgh was looking to make some minor updates to their front entrance and decided to give us a call. We sent out a member of our team to work with the owner to create a design and choose materials. We replaced their old, rusting white metal railing with a new silver aluminum handrail. Now the home's front steps are safe, sturdy, and looking great.

Before

After

This customer was looking to add a finished look to their outdoor staircase and sidewalk, this Chocolate-colored Tuscany Aluminum railing achieved just that, and will stay looking great for years to come!
Handrail styles for residential & commercial applications
Whether you are looking for a maintenance-free railing system or want to add a decorative touch to your front steps, you can count on us for quality installation and products. Our handrail products always meet local and national building codes and provide superior safety. We offer railings and balusters in a variety of styles, materials, and colors to give you the look and feel you want.
Wrought Iron: Wrought iron railings are both durable and decorative. They can be welded into different shapes and patterns to match your home's décor. Wrought iron railings can outlast other materials
Aluminum: Aluminum handrails are easy to maintain and do not require painting or staining. Aluminum is also an extremely durable material and can easily withstand the elements
Vinyl: Vinyl is a cost-efficient solution for your handrail needs. Vinyl handrails provide durability while creating a sleek look
Wood: Wood railings can be added to your existing deck. Wood can be stained or painted to keep a consistent appearance
Get a no-cost quote for railing installation & replacement
If you are building a new deck or porch or want to replace your old worn-out handrails, Pro Fence & Railing can provide the help you need. We offer free estimates for handrail installation and replacement, as well as fencing solutions to customers in Coraopolis, Cranberry Township, Wexford, Bridgeville, Allison Park, Gibsonia, Sewickley and throughout Greater Pittsburgh.
Give us a call or fill out our contact form to schedule your on-site consultation and get a free estimate for your residential or commercial project.
Looking for a price? Get a no cost, no obligation free estimate.