Durable Handrails Installed in Pittsburgh, Washington & Nearby
We install outdoor railings for decks, stairs, porches & more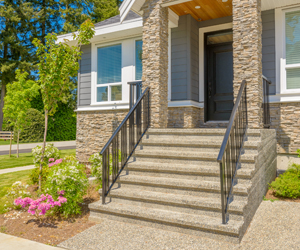 Safety first: A handrail should be installed no matter what size staircase you have to help prevent physical injuries.
Pro Fence & Railing installs secure, durable handrails that are suitable for all residential properties and are designed to provide years of worry-free use. We offer railings for decks, stairs, porches, ramps, balconies, and walkways in a variety of styles and materials.
Our specialists will help you choose a handrail to match your existing fence or create a customized look to fit your needs.
For a free consultation and quote, give us a call at 1-844-385-8831 today! We are your local expert for fence design and installation in Washington, Bethel Park, Pittsburgh, and surrounding Pennsylvania.
Before and After
Before

After

We installed a Potenza Vinyl railing at our customer's home in West Mifflin, Pa. We replaced their old, mismatched exterior with new, cohesive, durable pieces. The Potenza Vinyl is one of our most popular options as it is easy to maintain and very durable! It will hold up to rain, snow, wind, and anything else Western Pennsylvania weather might throw its way!

Before

After

For this Pittsburgh customer, we installed a clay-colored Potenza Vinyl Railing. We gave them a new railing that was longer, thicker, and more updated than their old on. All of our Potenza Railings are warranty-backed and built to last - call for your free estimate today!

Before

After

The perfect amount of curb appeal -- our Tuscany Aluminum Railings! They come in multiple colors to complement the exterioir of your home. Our expert team at Pro Fence and Railing is ready to help you find your perfect railing, call for your free estimate today!

Before

After

This "90 bronze" continuous handrail is a simple and sleek solution to your railing needs. Its classic silhouette means it will never go out of style, and its affordable price is perfect for any budget!

Before

After

Our customer in Verona, PA was looking to update their outdoor railing since it was no longer giving them the stability that they needed during these Pennsylvania Winters. We worked with them to figure out what they were looking for, and decided on this beautiful, updated Tuscany Aluminum railing. It provides the same general vibe that their old railing did, but with an updated silhouette and a much safer construction!

Before

After

The customer wanted a practical yet appealing railing for their porch. We installed this beautiful white 36" Superior T with colonial balusters and a gate for added security.

Before

After

Our customer in Bethel Park, PA needed to replace an unsafe railing. We went with a white vinyl picket railing. It looks great and is much safer than their previous railing.

Before

After

White Vinyl 36" Superior T Railing in Bethel Park, PA

Before

After

Checkout this handrail we installed for our customer in Pittsburgh, PA. A continuous handrail is an easy solution to add where you need to create a bit more safety for your steps.

Before

After

We installed this 3 foot white continuous handrail on our customer's staircase in Pittsburgh. This crisp, clean design brightens up this home!
Handrail styles for residential applications
Aluminum: Aluminum handrails are easy to maintain and do not require painting or staining. Aluminum is also an extremely durable material and can easily withstand the elements
Vinyl: Vinyl is a cost-efficient solution for your handrail needs. Vinyl handrails provide durability while creating a sleek look
Photo Gallery
Why choose Pro Fence & Railing for your handrail installation?
Maintenance-free railing systems
Handrails are a decorative touch to your front steps
Efficient and seamless installation
Quality products that meet local and national building codes
Our handrails provide superior safety
Railings and balusters available in a variety of styles, materials, and colors
Schedule a free railing installation & replacement estimate!
If you are building a new deck or porch or want to replace your old worn-out handrails, Pro Fence & Railing can provide the help you need. We offer free estimates for handrail installation and replacement, as well as fencing solutions to customers in Coraopolis, Cranberry Township, Wexford, Bridgeville, Allison Park, Gibsonia, Sewickley and throughout Greater Pittsburgh.
Give us a call or fill out our contact form to schedule your on-site consultation and get a free estimate for your residential project.