Garden Fencing Design & Installation in Bethel Park & Surrounding Greater Pittsburgh
Protect your garden & add a finishing touch with a well-built fence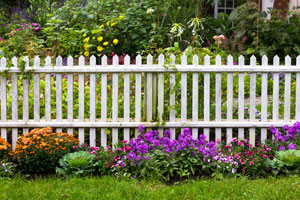 A garden fence can add a finishing touch to your landscaping.
If you want to install a fence around your garden for decorative purposes or to keep out unwanted intruders, Pro Fence & Railing offers a variety of solutions. A well-built garden fence can help protect your garden while adding a beautiful finishing touch to your landscaping.
Call us at 1-844-385-8831 to schedule an on-site evaluation and free estimate for your fencing project. We provide professional design and installation services throughout Greater Pittsburgh, including Bethel Park, Pittsburgh, Washington.
Choose a fence that meets your style & needs
Creating a beautiful garden takes a lot of time, effort, and money. With such a significant investment, it makes sense to go a little bit farther and install a fence to protect it. Depending on your primary purpose for a garden fence, whether it's to keep animals and children out, or to add a finishing touch, we offer a variety of fence styles in the highest-quality materials.
Get a free quote for garden fence design & installation
Are you ready to get started on your garden fence project? Call us or fill out our contact form to request your design consultation and free estimate for installation. We are your locally-owned and operated company for quality residential fencing in Wexford, Cranberry Township, Coraopolis, Allison Park, Gibsonia, Sewickley, Bridgeville and surrounding areas.
Looking for a price? Get a no cost, no obligation free estimate.