Stockade Fences Provide Privacy and Security near Pittsburgh, Washington and nearby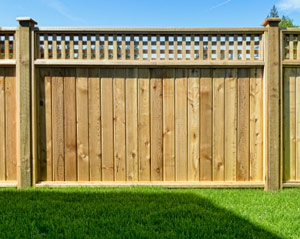 Combining privacy & beauty: Stockade fences provide exceptional security with the aesthetics of a traditional design.
Pro Fence & Railing installs stockade fences throughout Pittsburgh, Bethel Park, Washington and the surrounding areas. A stockade fence can serve multiple purposes for your home, adding both aesthetic value and privacy. Our stockade fences are available in a variety of materials, and our experts will work with you to choose perfect fence to match your home and fit your needs.
Stockade fences are one of the oldest types of fencing, dating back to Roman times when military officials wanted to ensure security around their fortifications. The use of stockade fences continued to grow throughout the ages and became immensely popular in the colonial United States, once again as an aid in defense. Although they no longer serve this purpose in modern times, stockade fences make for a great option for homeowners who are looking for increased privacy and security for their yards.
Call for a Free Quote
Schedule A FREE Estimate
If you're looking for the privacy and beauty of a stockade fence, call Pro Fence & Railing for a free estimate today!
Providing privacy for your home
These days, stockade fences are used primarily as privacy fences because of the very nature of their design. With heights up to eight feet and individual boards flushed against each other, stockade fences create a secluded space and prevent unwanted intrusion.
These characteristics make stockade fences the perfect choice for backyards with pools, whirlpools or any other features that you want kept private. They are also ideal for keeping pets in your yard, hiding unsightly areas, and protecting any other features that you want kept safe and private.
Secure your property with a stockade fence
As its original purpose suggests, security remains one of the primary advantages of stockade fencing. The height of the wooden panels deters burglars from climbing over the fence, lessening the likelihood of an intruder entering your yard or home.
Adding beauty and aesthetics
Stockade fencing isn't just for function, however, as it also has great aesthetic value. Stockade fences can be used as backdrop for traditional flower or rock gardens and put a finishing touch on your landscaping. In addition, stockade fences provide an effective sound barrier, making the immediate area around your home more peaceful.
Although stockade fencing has traditionally had a rustic appeal, a wide variety of choices is available in today's designs. We offer cedar and spruce fencing with arched or scalloped sections and round or square posts, allowing you to mix and match for the look you want. Post caps are also available in a variety of styles, including flat, beveled and Gothic.
Let us provide you with right fence for your home
Call us today to find out more or to schedule a free estimate! We proudly offer our residential fence services throughout Greater Pittsburgh including Pittsburgh, Bethel Park, Washington, Wexford, Cranberry Township, Coraopolis, Allison Park, Gibsonia, Sewickley, Bridgeville, and nearby.
Looking for a price? Get a no cost, no obligation free estimate.